Dr. Andrew Tsourkas and Dr. Feifan Yu interview about oYo-Link Oligo technology and its potential within the field of multi-omic single-cell analysis.
Dr. Tsourkas, co-founder of AlphaThera, and Dr. Yu, Scientific Director at the company, were recently interviewed for a Technology Feature article in Nature Methods titled, 'How single-cell multi-omics builds relationships'. 
The article, written by Vivian Marx, takes a look at approaches to analyze single-cell changes, and specifically reviews inCITE-seq as a way to multiplex measurements of a protein's journey.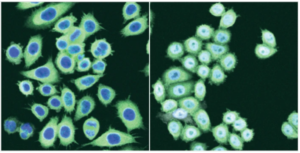 The challenges of attaching DNA tags to track antibodies in the nucleus are discussed with reference to amine-directed conjugation and the potential risk of variable labels per antibody or disruption of the antibody-binding site. In addition, the article discusses a requirement for the labeling of very small quantities of antibody for inCITE-seq, and the potential for interference of buffers with the conjugation process. 
The discussion then moves on to the requirements for cheaper and controlled ways for conjugating DNA to antibodies, leading onto an interview with Dr. Tsourkas and Dr. Yu who talk about AlphaThera's oYo-Link antibody labeling technology, and the opportunities it provides researchers within the field of multi-omic single-cell analysis.
In the article, Dr. Tsourkas explains the challenges he faced within his own research when it came to attaching antibodies to nanoparticles and how this led to the development and commercialization of oYo-Link technology. He describes how his biggest frustration with bioconjugation was the requirement for large quantities of antibody and how inefficient the overall labeling process was. 
Dr. Tsourkas and Dr. Yu talk about how oYo-Link can help researchers who are attaching antibodies to oligonucleotides as part of their multiplexed analysis to combine genomics, transcriptomics and proteomics. They explain how antibody to oligo conjugation can be a time-consuming process that often requires in-house expertise that isn't always available. Furthermore, researchers want to use as little antibody as possible for the conjugation to keep costs down. 
oYo-Link technology can help researchers access an easy-to-use and affordable method of performing controlled antibody-oligonucleotide conjugations. oYo-Link Oligo enables easy attachment of antibodies to oligos with only 30 seconds hands-on time, and with the whole conjugation process complete within 2 hours. The technology allows labeling of as little as 1ug of antibody at very low concentrations – as low as 50ug/ml – therefore providing a huge cost saving benefit to researchers that have otherwise had to use a lot of expensive materials to achieve successful conjugation. 
oYo-Link Oligo enables labeling of both ssDNA and dsDNA of up to 80bp and longer, and all of the Oligos used are HPLC or PAGE grade which ensures confidence in downstream assays.