Our Mission
Our mission is to make antibody labeling as simple and consistent as possible, giving scientists confidence in their bioconjugation reactions.
Tracing our origins to research in the lab of Co-founder Dr. Andrew Tsourkas at the University of Pennsylvania, AlphaThera has since rapidly grown and engaged the commercial space, launching over 15 different products and serving clients both domestic and worldwide. Our rapid growth can be attributed to effective translation of novel lab discoveries into valuable product offerings for our clients, with our oYo-Link® site-specific antibody labeling technology at the core of our product portfolio and enabling a variety of applications including high-sensitivity ELISAs, flow cytometry, single-cell analysis, and more.
oYo-Link equips researchers with a superior, site-specific antibody conjugation method that improves antibody binding and enhances assay performance over competing labeling methods. The oYo-Link procedure can label off-the-shelf antibodies in under 2 hours with 30 seconds hands-on time, giving researchers new flexibility to design their experiments.
View our products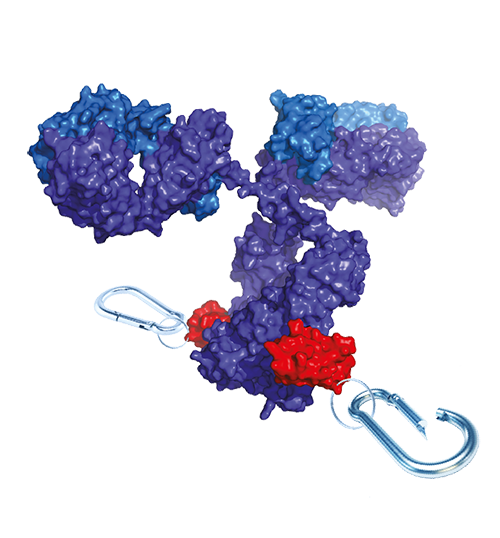 Founding Story
AlphaThera was Co-founded by Dr. Andrew Tsourkas and Dr. James Hui in 2016.
Dr. Andrew Tsourkas is a Professor of Bioengineering and Head of the Targeted Imaging, Therapeutics and Nanomedicine (TITAN) lab at the University of Pennsylvania. Much of his early work revolved around the development of nanoparticles for use in the imaging and/or treatment of various diseases, including cancer, atherosclerosis, and autoimmune diseases. However, efforts in scaling-up of these particles or expanding this work into new fields were severely limited by the low efficiency attachment of the targeting antibodies, which are often expensive and limited in quantity, onto surfaces such as nanoparticles. Therefore, he set out to develop new technologies that would not only improve the efficiency of the bioconjugation reaction but would also provide control over the orientation of proteins and antibodies on surface to maximize antibody activity.
James Hui joined the lab of Dr. Tsourkas, while he was an M.D./Ph.D. student at the University of Pennsylvania and he spearheaded the idea of using photoreactive antibody-binding domains to site-specifically label the heavy chain of Immunoglobulin G (IgG).
Through these efforts, they developed the technology of LASIC (Light Assisted Site-specific Conjugation) and the family of reagents that are now known as oYo-Link®. Given the prevalent and critical roles of antibody in biomedical research and the limitations of the existing chemical conjugation methods, Drs. Tsourkas and Hui immediately saw the potential of oYo-Link® in helping countless scientists achieve their research goals.
This led to the formation of AlphaThera. The company's team of scientists and business leaders has since grown to engage the commercial space.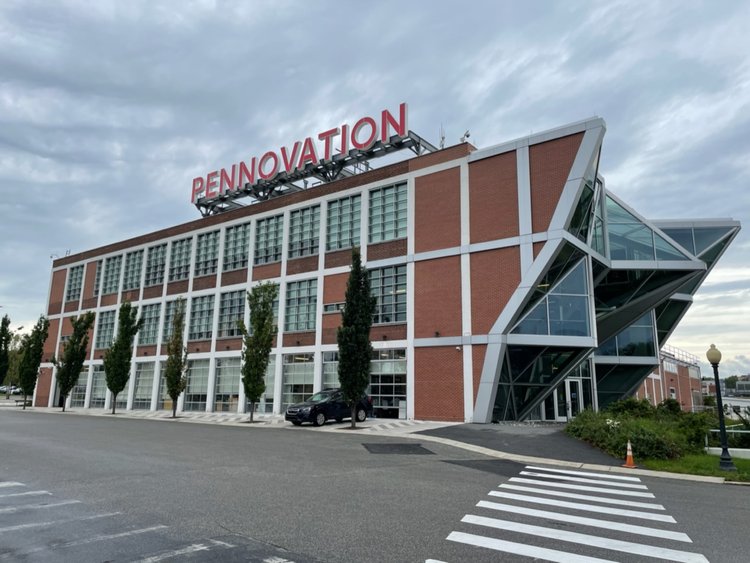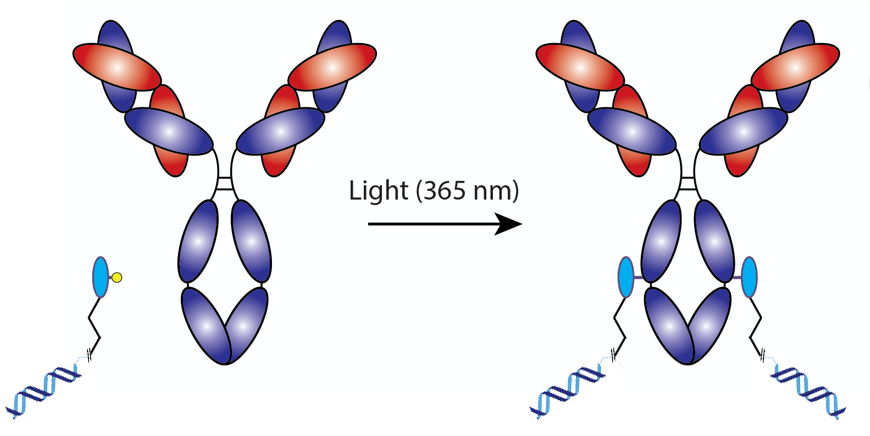 NIH Grant Support
AlphaThera's novel bioconjugation technology, branded oYo-Link®, precisely attaches the desired cargo to the antibody's Fc-domain via the novel linker technology developed through LASIC, ensuring a homogenous mix of antibody conjugates and improved assay performance. Support from multiple NIH grants enabled AlphaThera to further improve upon the oYo-Link labeling technology and expand its applications for research assays.
Some notable grants include the SBIR Phase II Grant awarded to AlphaThera for development of their site-specific conjugation method and the SBIR Grant for development of site-specific Antibody-Drug Conjugates.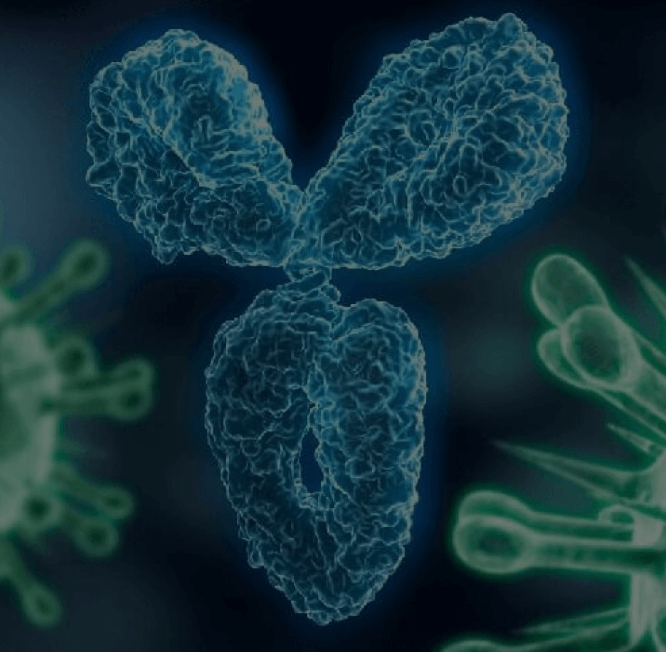 Commercial Expansion
With the novel conjugation technology established, the research & business team of AlphaThera has since expanded and continued the effort of commercializing the technology under the oYo-Link® brand name. Our oYo-Link products offer a next-gen bioconjugation platform to efficiently immobilize antibodies or label antibodies with various functional molecules, including dyes, biotins, DNA strands and more. Our lab members continue to validate the effectiveness of oYo-Link for each product and related applications.
AlphaThera continues R&D in the Pennovation Lab space while also validating new applications for our oYo-Link technology, such as the recently launched oYo-Link Oligo conjugation product enabling customers to attach DNA strands to their antibodies for single-cell or subcellular analysis. We continue to investigate novel applications and provide conjugation reagents to clients across the world, aspiring to be the go-to antibody labeling toolkit for future researchers.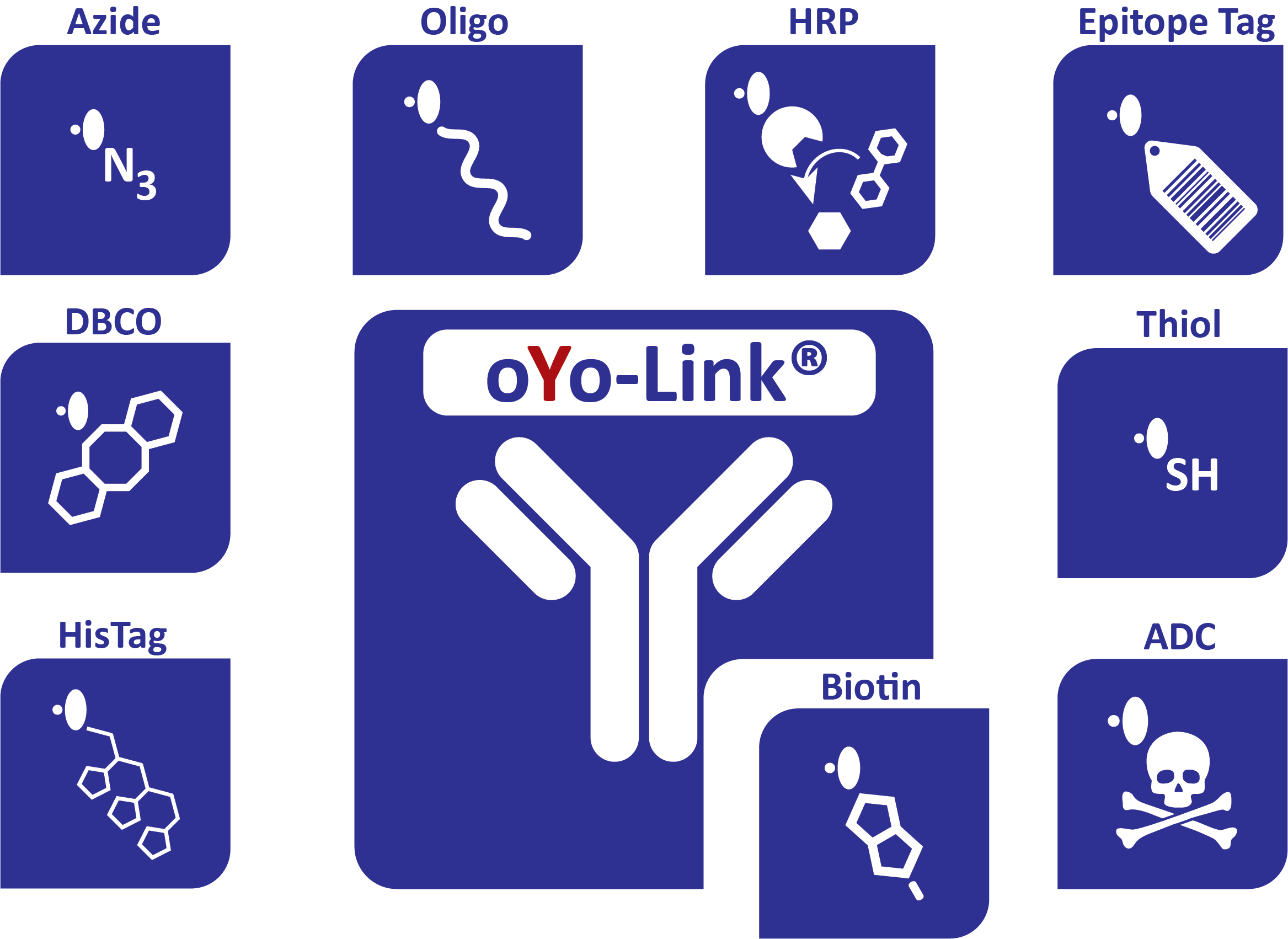 Biographies of Founders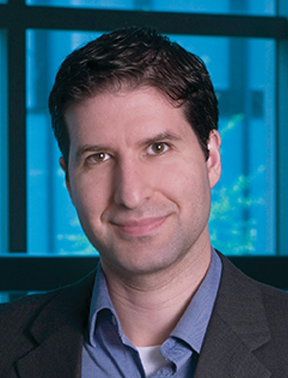 Andrew Tsourkas, Ph.D
Dr. Tsourkas completed his B.S. in Mechanical Engineering from Cornell University, his M.S. from Johns Hopkins University, and his Ph.D. in Biomedical Engineering from the Georgia Institute of Technology/Emory University Joint Program. He then went on to conduct a post-doctoral Fellowship at the Center for Molecular Imaging Research in the Department of Radiology at Harvard Medical School. In 2004, Dr. Tsourkas joined the Department of Bioengineering at the University of Pennsylvania, where he is now a Professor. He is a member of the Institute for Translational Medicine and Therapeutics (ITMAT), Institute for Immunology (IFI), and the Abramson Cancer Center (ACC) at Penn. He is currently the Co-Director of the Center for Targeted Therapeutics and Translational Nanomedicine (CT3N) within ITMAT and is the founding Director of the Chemical and Nanoparticle Synthesis Core (CNSC). Dr. Tsourkas was a recipient of the NSF Early Career Award, the Wallace H. Coulter Foundation Early Career Award, and in 2015 was named a fellow of the American Institute for Medical and Biological Engineering.
Learn more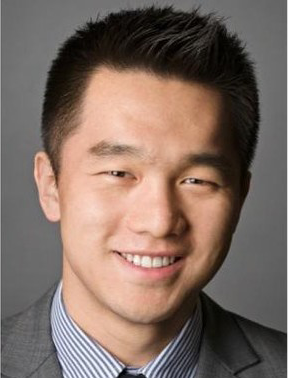 James Hui, M.D., Ph.D.
Dr. Hui completed his B.S. in Biochemistry and Biomedical Research at University of California Los Angeles, and was awarded with Phi Beta Kappa. He then went on to University of Pennsylvania to pursue a joint MD/PhD program. He completed his PhD in Bioengineering in the lab of Prof. Andrew Tsourkas, in 2015 Dr. Hui was a member of the HHMI-NIBIB Biomedical Imaging Interface Program and, a recipient of Paul and Daisy Soros Fellowship. Dr. Hui is a passionate physician/scientist-entrepreneur; while at Penn, he is a recipient of the First Place Prize at Medtronic Case Competition, Innovation Fund at Penn Weiss Tech House, and a semi-finalist at Wharton Business Plan Competition. Dr. Hui completed an internship in general surgery at Stanford University and subsequently stayed to pursue additional training in both diagnostic and interventional radiology, and research interest in interventional oncology.
Learn more