oYo-Link® Conjugation Technology
How oYo-Link® Works
oYo-Link reagents consist of low molecular weight (~8 kDa), high-affinity antibody-binding domains that possess a photo-crosslinker within their Fc-binding site. Upon illumination with non-damaging Black-light, oYo-Link forms a covalent bond with the antibody. This procedure is referred to as Light-Activated Site-Specific Conjugation (LASIC). Any label that is attached to oYo-Link will be covalently attached to the desired antibody.
All that is needed to label your antibody is the oYo-Link reagent and our LED photo-crosslinking device to perform the conjugation, or a compatible device.
View our products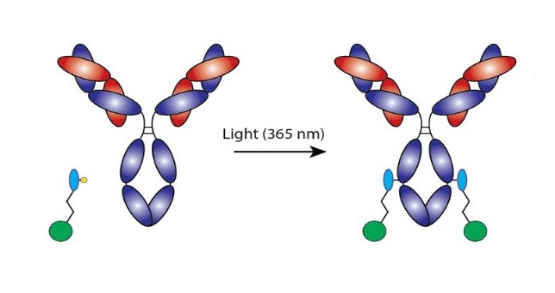 Two Steps, 30 Seconds Hands-on Time, 100% Sample Recovery
Antibody labeling requires just two steps:
1. Mix oYo-Link with your antibody
2. Illuminate with non-damaging 365 nm UV light for <2 hours
The entire procedure requires just two-steps and less than than 30 seconds of hands-on time. Any unused oYo-Link reagent can be saved for later use.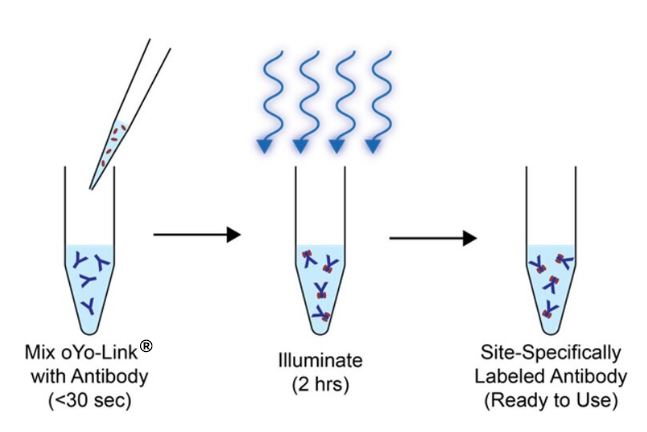 oYo-Link® vs Competitor Antibody Labeling Reagents & Kits
| Feature | oYo-Link® | Other Antibody Labeling Reagents |
| --- | --- | --- |
| Labeling technology | Site-specific | Random |
| Antibody concentration requirement | >50ug/mL | 1mg/mL |
| Buffer requirements | Almost no limit | No Tris, No BSA, No Glycerol etc |
| Stabality of regeants | Highly stable | Loss of activity after reconstitution |
| Single/multiple use | Multiple use | Single use |
| Stability of conjugated antibody | Highly Stable | May cause aggregation |
| Antibody binding affinity | Maintained | Lowered or lost |
| Verification of antibody conjugation | Run on SDS-PAGE gel | Hard to know |
| Removal of free reagents | No need in most applications | Removal required |
Wide Variety of Applications
The oYo-Link Antibody Labeling System can be used to site-specifically and covalently label the Fc region of almost any "off-the-shelf" antibody with biotin, drugs, click chemistry tags (e.g. azide, DBCO), epitope tags, enzymes (e.g. MNase), HyperBright™ fluorescent labels, oligonucleotides, and more.
View All Products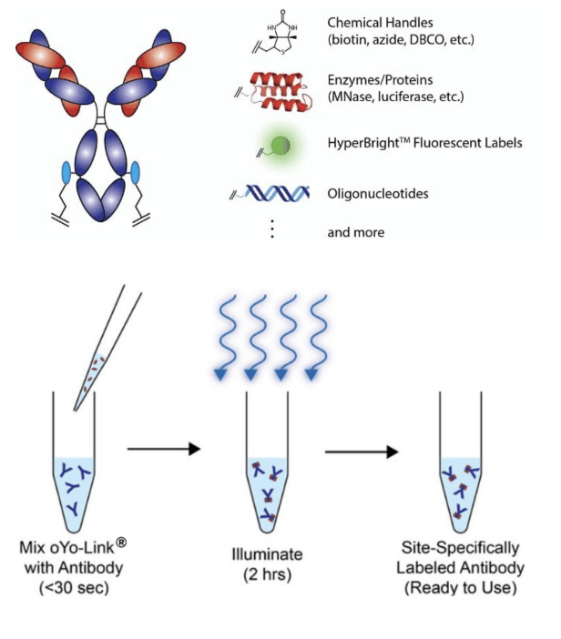 oYo-Link® Advantages
Easy & rapid labeliong
Reactions require less than 30 seconds hands-on time, 2 hours total.
Covalent, site-specific labeling to the Fc region
No loss in antibody functionality & highly efficient labeling resulting in homogeneous conjugates with 1 to 2 labels per antibody.
Label small amounts
Label as little as 1 µg of antibody at a time and in diluted antibody solutions – 50 µg/mL.
Robust buffer compatibility
No purification steps; 100% sample recovery – no wasting of expensive samples.
oYo-Link® Origins In Research
AlphaThera has a variety of publications linked to the origin of oYo-Link® technology.
Citations:
1. Hui, J.Z., Tamsen, S., Song, Y., Tsourkas, A. (2015) LASIC: Light activated site-specific conjugation of native IgGs. Bioconjugate Chemistry, 26(8), 1456-1460. DOI: 10.1021/acs.bioconjchem.5b00275
2. Hui, J.Z., Tsourkas, A. (2014) Optimization of photo-active Protein Z for fast and efficient site-specific conjugation of native IgG. Bioconjugate Chemistry, 25(9), 1709-1719. DOI: 10.1021/bc500305v
3. Hui, J.Z., Al Zaki, A., Cheng, Z., McNitt, C.D., Popik, V., Zhang, H., Luning Prak, E.T., Tsourkas, A. (2014) Facile method for the site-specific, covalent attachment of full-length IgG onto nanoparticles. Small, 10(16), 3354-3363. DOI: 10.1002/smll.201303629